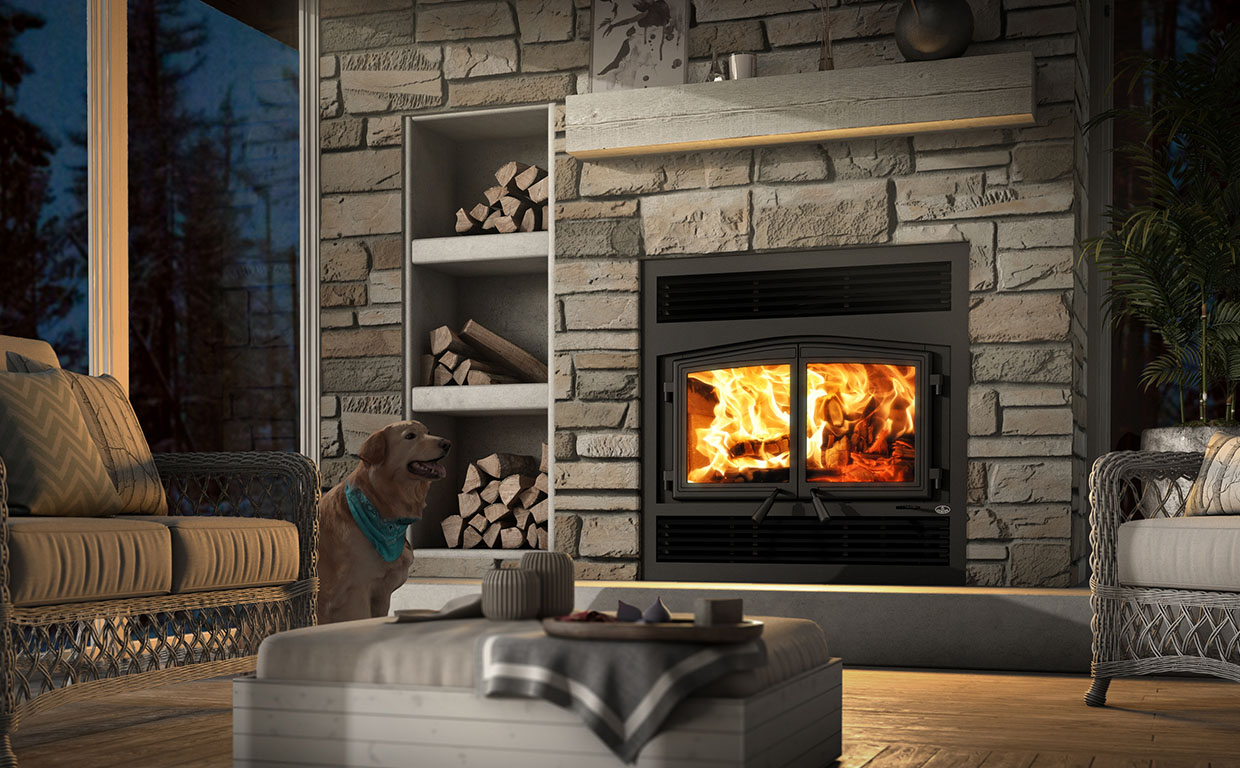 OB04007
STRATFORD II WOOD FIREPLACE
| | |
| --- | --- |
| Fuel type : | Dry cordwood (16" recommended) |
| Heating area : | 750 - 2,200 Ft2 |
| Maximum heat output : | 80,000 BTU/h (23.4 kW) |
Maximum recommended heating area by climate zone Consult our map
* Prices do not include taxes, freight, installation charges, duties, and customs fees if applicable.
To confirm the availability of this product, visit our WHERE TO BUY section
Promo
Description
Options/Accessories
Specs/Manual
Support/parts
Reviews (97)
Description
Let yourself be charmed by the timeless beauty of this non-catalytic wood fireplace, which performs particularly well and meets the EPA's most restrictive emissions standards.
The Stratford II offers you more, including a 2.5 cubic foot firebox that's easy to access through double-cast iron doors. This unit will impress you with its distinctive style and exceptional heating capacity. 
Discover the additional qualities of the Stratford II wood fireplace
APPROVED FOR THE ISLAND OF MONTREAL
Government incentives may apply to this product.
LEARN MORE
*Any installation must be done according to the data and drawings detailed in the owner's manual.
97% of the last 49 product owners who have registered their warranty are satisfied with this product.
September Promotion
Offer valid from September 15th to December 31st, 2023
With the purchase of a wood stove, insert or fireplace, get a free accessory:
Option A - Papyrus tool set (AC02622)
Option B - Ash vacuum cleaner (AC02582)
Option C - Start-up kit (AC01380)
*Before February 29th, 2024
Options/Accessories
Options
Picture
Part number and description
Price
Shipping time
Accessories
Adhesives, gaskets and insulation
Paint
Maintenance products
Meters
Options
Fire starters
Fireplace tool sets
Specs/Manual
Appliance performance (1)
Fuel type :
Dry cordwood (16" recommended)
Recommended heating area-ft² : ()
750 - 2,200
Overall firebox volume-ft³ :
2.5
EPA loading volume-ft³ :
1.94
Maximum burn time : ()
8 h
Maximum heat output-dry cordwood : (2)
80,000 BTU/h (23.4 kW)
Overall heat output rate < : (2) (3)
12,700 BTU/h (3.72 kW) to 60,700 BTU/h (17.79 kW)
Average overall efficiency (dry cordwood) : (3)
64% (HHV) (4)
68% (LHV) (5)
Optimum overall efficiency : (6) (7)
70%
Optimum heat transfer efficiency : (8)
68%
Average particulate emissions rate : (9)
1.2 g/h
Average CO : (10)
98 g/h
(1) Values are as measured per test method, except for the recommended heating area, firebox volume, maximum burn time and maximum heat output.
() Recommended heating area and maximum burn time may vary subject to location in home, chimney draft,heat loss factors, climate, fuel type and other variables. The recommended heated area for a given appliance is defined by the manufacturer as its capacity to maintain a minimum acceptable temperature in the designated area in case of a power failure.
(2) The maximum heat output (dry cordwood) is based on a loading density varying between 15 lb/ft³ and 20 lb/ft³ and reloading intervals ranging from 60 to 120 minutes. Other performances are based on a fuel load prescribed by the standard without any reloading between start and finish. The specified loading density varies between 7 lb/ft³ and 12 lb/ft³. The moisture content is between 19% and 25%.
(3) As measured per CSA B415.1-10 stack loss method.
(4) Higher Heating Value of the fuel.
(5) Lower Heating Value of the fuel.
(6) Performances based on a fuel load prescribed by the standard at 7 lb/ft³ and with a moisture content between 19% and 25%.
(7) Optimum overall efficiency at a specific burn rate (LHV).
(8) The optimum heat transfer efficiency is for the low burn rate (using HHV) and represents the appliance's ability to convert the energy contained in the wood logs into energy transferred to the room in the form of heat and does not take into account the chemical losses during combustion.
(9) This appliance is officially tested and certified by an independent agency.
(10) Carbon monoxyde.
General features
| | |
| --- | --- |
| Combustion technology | Non-catalytic |
| High-efficiency certified appliance | Yes, EPA 2020 approved |
| Maximum log length | 20" |
| Log positioning | Loading over width |
| Chimney diameter | 6" |
| Flue outlet diameter | 6" |
| Type of chimney | CAN/ULC S629, UL 103 HT (2100 °F) |
| Minimum chimney height (feet) | 15' |
| Baffle type | C-Cast or equivalent |
| Approved for a mobile home installation | No |
| Shipping Weight | 468 lb (212 kg) |
| Door type | Double, glass with cast iron frame |
| Glass type | Ceramic glass |
| Glass surface – dimensions (Width X Height) | 22 1/4" X 12 1/2" |
| Glass air-wash system | Yes |
| Premium quality blower included (CFM) | 176 |
| Overall dimension (Height) | 40 5/8" |
| Overall dimension (Width) | 36 3/4" |
| Overall dimension (Depth) | 29 3/4" |
| Door opening – dimension (Height) | 10 1/2" |
| Door opening - dimension (Width) | 25 3/8" |
| Firebox – dimension (Height) | 12 1/8" |
| Firebox – dimension (Width) | 20 3/8" |
| Firebox – dimension (Depth) | 12 7/8" |
| Moulded refractory bricks | Yes |
| Stainless-steel secondary-air system improving gas combustion | Yes |
| Cast iron andirons | Yes |
| USA standard (emissions) | EPA |
| Canadian Standard (emissions) | CSA B415.1-10 |
| USA standard (safety) | UL 127 |
| Canadian standard (safety) | ULC-S610 |
| Tested and listed as per applicable standards | By an accredited laboratory (CAN/USA) |
| Warranty | Limited lifetime |
Approved chimney types
| Manufacturiers* | Brand | Type | Diameter |
| --- | --- | --- | --- |
| American Metal | HSS | AC Triple Wall | 6" (15 cm) |
| American Metal | HS | AC Triple Wall | 6" (15 cm) |
| DuraVent | DuraTech | 1" Solid Pack | 6" (15 cm) |
| DuraVent | DuraTech Canada (DTC) | 1" Solid Pack | 6" (15 cm) |
| DuraVent | DuraPlus HTC | 2" Solid Pack | 6" (15 cm) |
| DuraVent | DuraTech Premium | 2" Solid Pack | 6" (15 cm) |
| DuraVent | DuraPlus | AC Triple Wall | 6" (15 cm) |
| Metal Fab | Temp Guard | 1" Solid Pack | 6" (15 cm) |
| Olympia Chimney | Champion Chimney System | 1" Solid Pack | 6" (15 cm) |
| Olympia Chimney | Rockford Chimney Systems | 1" Solid Pack | 6" (15 cm) |
| Olympia Chimney / SBI Venting Division | Ventis | 1" Solid Pack | 6" (15 cm) |
| SBI Venting Division | Nexvent | 1" Solid Pack | 6" (15 cm) |
| Security Chimney | S-2100+ | 2" Solid Pack | 6" (15 cm) |
| Selkirk | CF Sentinel (CF) | 2" Solid Pack | 6" (15 cm) |
| Selkirk | Super Pro 2100 (ALT) | 2" Solid Pack | 6" (15 cm) |
| Selkirk | Super Vent 2100 (JM) | 2" Solid Pack | 6" (15 cm) |
* Specific components may be required depending on the chimney manufacturer.
Minimum clearances to combustibles*


(Data expressed in inches. 1 inch = 25.4 mm)
Canada
United-States
Clearance – top (measured from the platform on which the appliance is installed)**
80"
80"
Clearance – combustible side mantle to unit
8"
8"
Clearance - side wall
13"
13"
Clearance – minimum floor protection in front of the appliance
16"
16"
Clearance - from the shelf to the base of the fireplace
58"
58"

* The information given on the certification label affixed to the appliance always overrides the information published in any other media (owner's manual, catalogues, flyers, magazines and/or web sites).

** Some appliances have been tested with a low ceiling. Before setting up your unit, refer to the installation manual.
Support/parts
Need a replacement part for your appliance?
We have everything you need! Buy it online or from your local dealer.
NEED HELP ?
CONTACT-US !
1-418-908-8002
Monday to Friday
8h to 12h - 13h to 17h
(EST)
Do I need an EPA certified or CSAB415.1-10 certified heater?
You first have to identify what your needs are. If you are looking for ambiance, a temporary heat source in a cottage or a camp, or a simple back-up heat source in case of power failure, you do not necessarily need to invest more money in order to buy an EPA or CSAB415.1-10 certified wood heater. However, if your goal is to heat on a regular basis, the extra dollars will prove to be a good investment. Furthermore, it must be noted that certified heaters release up to 90% less particles into the atmosphere, which makes wood a renewable and clean source of heat. As a result, if the style and size of the heater you are looking for is available in a certified version, it is highly recommended that you invest in this advanced combustion technology. You will help the environment and reduce your wood consumption by up to 30%.
NOTE: If you live in the United Sates, British Columbia, Ontario, Quebec, Nova Scotia, New Brunswick or Newfoundland, EPA certified wood heaters are mandatory. Exceptions apply for certain categories of products, such as decorative fireplaces. Certain municipalities may also have by-laws that require the installation of an EPA or CSAB415.1-10 wood heater, even though the province does not have an official regulation on wood heating. It must also be noted that in Canada, the CSAB415.1-10 Standard is equivalent to the EPA Standard. A wood heater that meets this Standard will generally comply with the regulation in place.
How do I determine the size of heater I need and where should I install it?
Before answering this question, it is very important that you clearly identify what your needs are. Some people will buy a heater simply to enhance the ambiance of a room, while others will buy a heater as their main source of heat. There is no good or bad reason for buying a wood-heat system. If you simply want to enhance the ambiance of a room, most small to medium size heaters will suit your needs. Simply chose the style you like best, and put the unit in the room where you spend the most time. The heat and look of a glowing fire will create an atmosphere of warmth and coziness.
If your primary need is to heat, you must verify the heating capacity of your heater based on the technical data provided by the manufacturer. For instance, if you want to heat an 800-square-foot area on one floor, you need to buy a heater with a minimum capacity of 800 sq. ft.
If you need to heat more than one floor, keep in mind that heat rises. Therefore, a heater located in your basement will help you heat the main floor as well. However, the contrary is not true; a heater located on the main floor (ground floor) will not heat the basement. Keep in mind also that the more divisions there are in the house, the harder it will be to distribute the heat evenly.
If you need to heat two floors, calculate the surface of the lower floor. Then, add 50% of the surface of the upper floor. For instance, if you install a wood-heating system in the basement and you have 800 sq.ft., you will need a heater with a minimum capacity of 1,200 sq.ft. (800 + 400 = 1,200.
If you need to heat more than two floors, calculate the surface of the lower floor (where the wood-heating system is located). Then, add 50% of the surface of the middle floor, and 25% of the surface of the upper floor. For instance, if you install a heater in the basement and you have 800 sq.ft., you will need a heater with a minimum capacity of 1,400 sq.ft. (800+400+200= 1,400). Consult the drawing below. It will help you understand the explanations provided in this section.
REMEMBER: We are talking about "zone" heating, not central heating. The room where the heater is located and the rooms directly above it will always reach higher temperatures than the rooms distant from the unit. If you want an even temperature throughout the house, you need to consider a central heating system, such as a warm air wood furnace. Furthermore, you must keep in mind that the size of the heater you need may vary based on the insulation of your house, its exposure to wind, and the number of windows. It will always be prudent to buy a heater with a capacity that is slightly higher than the minimum capacity that you need. For instance, if you need a minimum capacity of 1,400 sq.ft., it will be more prudent to buy a heater with a capacity of 1,600 sq.ft., if not 1,800 sq.ft. There are three main advantages in buying a larger appliance: the increased heating capacity, the ease of loading more and larger logs (as a result of the greater firebox volume), and the increased combustion time (given the higher loading capacity).
The drawing above gives an example of the minimum heating capacity required for a wood-heating system installed in a house with three floors of 800 sq.ft. each. We assume that the house is well insulated and that air can circulate between each floor through an open stairway and/or floor traps.
Why is the efficiency as per the EPA's test data smaller than the publicized optimum efficiency?
EPA refers to the CSAB415.1-10 standard for the calculation of the appliance's efficiency. The efficiency reported as per EPA's directives consists of an average between four different burn rates, ranging from the lowest burn rate (air intake completely closed) to the highest burn rate (air intake completely open). The optimum efficiency that we publicize is the efficiency obtained according to the same test data, but for the low burn rate only. This efficiency is more realistic for a majority of users whose heating needs require that the unit be used to maximize burn times.
Does my heater qualify under the LEED program?
The Leadership in Energy and Environmental Design (LEED) Green Building Rating System™ encourages and accelerates global adoption of sustainable green building and development practices through the creation and implementation of universally understood and accepted tools and performance criteria. LEED is a third-party certification program and an internationally accepted benchmark for the design, construction and operation of high performance green buildings. It provides building owners and operators the tools they need to have an immediate and measurable impact on their buildings' performance.
The Canadian Green Building Council (CGBC) certifies LEED projects. The Certification is based on the total point score achieved, following an independent review and an audit of selected Credits. With four possible levels of certification (certified, silver, gold and platinum), LEED® is flexible enough to accommodate a wide range of green building strategies that best fit the constraints and goals of particular projects. The Canadian rating systems are an adaptation of the US Green Building Council's (USGBC) LEED Green Building Rating System, tailored specifically for Canadian climates, construction practices and regulations. The rating systems are adapted to the Canadian market through an inclusive process that engages stakeholders and experts representing the various sectors of the Canadian industry.
Wood or pellet stoves, fireplaces, and inserts can qualify under LEED and obtain up to one point provided that they meet the following criteria.
Why does the fire go out when I close the loading door?
Possible causes and solutions:
1- The moisture content of your wood is too high.
Solution: Make sure you use good, seasoned cord wood. The wood you burn plays an important role in the overall performance of your heater. Your wood should have been properly dried for approximately one year. Storage is also key. Wood that has been cut for one, two or even more years will not necessarily be dry if it has been stored in poor conditions. Under extreme conditions, it may have rotten instead of drying. Smaller pieces of wood will dry faster. The wood should be stored in a place where the grass is not too long, and where the wind will be able to circulate between the logs. A 12-inch gap should be kept between the cords. The wood should be placed in the sunniest area and should be protected from the rain and snow on top, but not on the sides. Use a moisture reader to measure the moisture content of your wood. Ideally, it should be below 25%.
2- The air control mechanism is not open enough.
Solution: Adjust the air control mechanism in order to keep the flue temperature within the comfort zone (between 250 °F and 475 °F) on your chimney thermometer. The air control mechanism must always be closed gradually. You need to obtain a good bed of red embers and the logs must be completely lit up before you close the air control completely. This can easily take up to one hour.
3- The logs that you are using are too big.
Solution: Use smaller pieces of wood and place them to allow proper air circulation between the logs. The same weight of wood cut in many small pieces will produce more heat than fewer, larger logs. Only add big logs when you have a good bed of red embers. Logs with a diameter exceeding 6 inches should always be split. Avoid stacking logs to the top of the firebox.
4- The chimney draft is too weak.
Solution #1: In many cases, a weak draft is simply due to insufficient heat in the exhaust system. Build a small, intense fire, and leave the door ajar (never leave the heater unattended). Before inserting larger logs, use dry kindling to obtain a good bed of red embers. Gradually increase the size of the logs. Close the unit's door when you reach a flue temperature of approximately 475 °F on the chimney thermometer. Leave the air intake fully open for approximately 15 minutes. Then, gradually close the air intake control. Note that there is no danger in letting the temperature inside the flue reach approximately 700 °F during the start-up. This is even favorable in order to properly start your heater. You must, however, avoid maintaining excessive temperatures (above the comfort zone on your thermometer) during a long period of time. Your chimney thermometer should be positioned on the exhaust pipe, approximately 18 inches above the unit.
Solution #2: Your heater may not have all the oxygen it needs to allow for a sufficient draft. You first need to ensure that the room where the heater is located is sufficiently large and well ventilated. Open the nearest window by approximately 2 inches. If you notice a significant improvement, it is a sign that the unit needs more oxygen. The room may be too insulated or too small. Without an additional source of oxygen, the draft will remain weak and cause the glass stay dirty.
Solution #3: The chimney may be too short. In order to obtain a sufficient draft, your chimney must have a minimum height. Twelve feet (from the heater to the chimney cap outside the house) is a minimum. A height of 15 feet or higher is ideal.
Solution #4: Your exhaust system may be too tortuous or may lack a sufficiently steep slope. Ideally, your exhaust system should not have more than one 90° elbow. Furthermore, all horizontal sections should be as short as possible and have a minimum slope of 1/4" per foot.
Solution #5: Your exhaust system may be oversized. When your chimney is oversized, the volume of air that needs to be warmed-up is larger. It is therefore difficult to reach temperatures that will allow for a sufficient draft. Most advanced combustion systems (those certified to EPA/CSAB415.1-10) have a 6" flue outlet (152 mm). If your exhaust system does not have a 6" diameter, a solution is to insert a stainless liner with a 6" diameter inside the exhaust system.
Why is the BTU according to EPA test data smaller than the one advertised?
You will notice a difference between the BTU output as per the EPA's test data and what is advertised on our web site and/or product literature. The maximum BTU output we advertise is what will be obtained with a full load of seasoned cordwood inserted inside the firebox. The EPA output, on the other hand, is what has been obtained during emissions testing. The EPA test procedure requires that a special type of wood is used and positioned inside the firebox in a manner that does not represent the way the firebox volume would normally be utilized using seasoned cordwood. The EPA test load is typically much smaller. Hence, the BTU as per the EPA's test data is reduced. The BTU output that should be considered by a normal user is the one we advertise for seasoned cordwood.
What burn time will I get from my wood heater?
The combustion time for an EPA or CSAB415.1-10 certified, non-catalytic wood appliance depends on many factors, the most important being the size of its firebox. Heaters with a 2.0 cubic foot firebox or more will normally have longer burn-times. From 6 to 8 hours is about the burn time you will get. Some companies will advertise longer burn times, but be careful, this calculation is made from the time you light the fire to the time there is absolutely no combustible left into the firebox. No matter what the appliance model is, the maximum BTU output will be obtained over approximately 33% of the total burn cycle. This represents 2 to 3 hours for a medium-size stove. So realistically, you will have to reload the unit every 3 or 4 hours in order to get the maximum heat out of your appliance when you are home. If you don't reload the heater and let it burn the remaining fuel, your output will slowly decrease until there is no useful heat left to produce (we call this the "tail end" of the combustion cycle). This "tail end" will provide heat for another 4 to 5 hours. So if you are looking for a 6 to 8-hour burn time, make sure you choose an EPA or CSAB415.1-10 certified wood heater with a BTU output (using cordwood) of 60,000 BTU or more. Appliances with that kind of output all have fairly large fireboxes. If you are going to rely mostly on wood for heating and your house has more than 2,000 square feet, do not hesitate to choose one of our larger units (>85,000 BTU). Those appliances will have a burn time of approximately 8 to 10 hours.
Can I install an EPA or CSAB415.1-10 certified heater on an 8-inch chimney?
EPA or CSAB415.1-10 certified heaters function best on a 6-inch chimney (interior diameter). The problem with an 8-inch chimney is that the appliance may struggle to heat-up the air volume contained inside the chimney. A hot chimney is required to create enough draft. Poor draft will inevitably lead to poor combustion, which will cause smoke roll backs, a dirty glass, lack of heat, and a large quantity of unburned fuel inside the firebox. It is therefore highly recommended installing a 6-inch liner inside the 8-inch chimney. This liner may be rigid or flexible.
Do I need to install a fresh air intake on my wood heater?
A fresh air intake is not mandatory for your wood heater, unless the unit is installed in a mobile home or if the local building code or the manufacturer requires it. If the heater is installed in an open room, in a house that is more or less air-tight, combustion air will normally be easily replaced. In this case, the installation of a fresh air intake is not required. It must, however, be noted that a fresh air intake, even if it is not mandatory, will always provide the advantage of better balancing the house with regards to combustion air. If the house has a powerful mechanical exhaust system that may be used while the heater is burning (ex: range hood), a fresh-air intake will be required.
How much heat transfer should I get from my fireplace using a forced air kit?
Several factors can affect the amount of heat transferred to your rooms through a forced air option. The length of the system, the deviations and the insulation of the conduits can have a major impact. It is recommended to use a short system with few deviations. The heat transfer will be optimized when your fireplace is hot. Heat transfer too soon when the fireplace has not reached its optimum combustion temperature can cool the combustion chamber too quickly and cause poor combustion. An overpowered fan can also lead to the same negative effects. The ideal situation is a lower but constant air flow when the fireplace is hot. We can therefore expect to transfer at least 25% of the heat from the appliance to other rooms. It should be noted that the systems sold with your fireplace have been tested for safety by the appliance manufacturer. If you do not use the original system supplied by the manufacturer, you expose yourself to a risk of fire. If in doubt, consult a professional installer.
Reviews
Carla Harkies - 2023-11-02

Jerry Blackwood - 2023-11-01

Excellent product!
Terry Jones - 2023-10-29
Thomas Custer - 2023-10-25

Functioning this week to check on installation and effectiveness of the stove. Works great in heating the home. Looks great in its styling and function.
Jacob Ryan - 2023-10-14

Vickie Holdren - 2023-10-05

Theresa Haugen - 2023-10-04

The fireplace is builder installed, closed on house 7/26/23, started using fireplace end of September. So far satisfied, however, rheostat stopped working this morning, 10/04/23.
Mark Collins - 2023-09-27

Haven't used yet. Looks good. Installer didn't leave enough room for the face plate to sit flush on the stove which is frustrating but think it will still work ok
Jeremie Sauve - 2023-09-22
Robin Grouette - 2023-08-27

Keith OBrien - 2023-08-25
Nicholas Gray - 2023-08-22

Jeff Loree - 2023-08-22

Kurt Weegemann - 2023-08-21

Donald Cody - 2023-08-20

The unit looks. It's too soon the evaluate its performance, it's summer.
John & Amy Anderson - 2023-07-13
Alex Forer - 2023-06-18

Robert Sauvé - 2023-06-13

Porte pare- étincelles très lourde.
DERRICK COOLEN - 2023-06-06

Zachary Neal - 2023-05-25

Corey Terry - 2023-05-19

Paul Buchowski - 2023-04-17

Anne Leitten - 2023-04-14
Brett Mandernack - 2023-04-13

Alexanne Rainville - 2023-04-09

Tyler Breece - 2023-04-06

Roger Kult - 2023-04-06

Fred Beste - 2023-03-25

Well designed and looks great!
Julie Hotchkiss - 2023-02-25

The Osburn Straford II suits our needs perfectly. It operates as expected (very well) and looks great.
Nicole Holehan - 2023-02-24

David Klover - 2023-02-24

Patrick Vezeau - 2023-02-21
Roger Sherman - 2023-02-07

Very good but glass does smoke up quite a bit despite very dry clean wood.
Jeff Lorenz - 2023-01-30

Vaughn Boese - 2023-01-21

John Leadford - 2023-01-19

Awesome fireplace. Heats up quick and stays hot along time
Mike Brennan - 2023-01-17

John Mulach - 2023-01-17

Bruce Wiater - 2023-01-08

Jane Matthews - 2023-01-07
Not installed yet
BRET BAILEY - 2023-01-02

vincent bonanno - 2022-12-12

Steve Hunter - 2022-12-11

Bernard Bernard - 2022-12-11

CATHY HASS - 2022-12-04

Looks nice. Installer said it was a good unit. That's all we know do far.
Jonathan Vistucis - 2022-11-25

Peter Rynberk - 2022-11-24

Easy to get started and provides quick, ready heat.
Eric Carusi - 2022-11-05

Cody Preuett - 2022-11-04

Easy install submittal sheet was good. Insert cover is pretty much same size as unit is. Gets hot and outside insert is cold to touch
Jason Bramlett - 2022-10-24

It's a beautiful unit that I look forward to using for many years to come.
Ivor Petrie - 2022-10-20

Wrote a review against serial number 206902 which although on the sticker is not the serial number - see that review
Ivor Petrie - 2022-10-19

I chose the Startford II as we built our final (eventually retirement) home in rural Tennessee and we are homesteading including heating our whole home with this wood burning stove. We ordered it with the AC01374 Forced Air Kit and have it plumbed into our HVAC distribution pipework. Finding an installer and getting it installed was a nightmare as no-one in this area is prepared to do all the necessary work. The chimney and fireplace installer would not touch any electrical or thermostat wiring, the electrical contractor stated it was not part of the electrical install and the HVAC contractor stated he would only connect the final air delivery hose from the forced air fan to the HVAC distribution pipework. I am a highly capable multi-discipline engineer so I did my own installation design, let the chimney and stove installer install it and I did all the other work myself. It is not easy, but the Installation instructions provided by Osburn are excellent and even give good advice on multiple different installation hardware and materials and good details on how to wire the thermostat, forced air fan and optional switch. Once it was fully installed we gave it a try. It was not easy to get it going the first attempt but after a bit of experience we find it easy to light and burning red oak at 16% we can go 4-6 days without having to clear out the ash. The unit did not heat the house well for the first few days but after getting some helpful advice from the Osburn Technical Helpline we did some checking and found a very bad error by the HVAC folk which after it was corrected changed the performance from barely adequate to shutting it down to stop the whole house overheating. The unit looks good and heats well, is easy to fuel and is exactly what we wanted for our new home. We are very pleased with this unit and would recommend it to others. My only criticism is that the in-fire blower is a bit noisy but that is a very minor matter.
Jeremy Wilson - 2022-10-17

John Bates - 2022-09-11
Well I haven't used the product yet just installed it. Seems like it's a heavy duty well designed product for a lifetime of use. Has tiny tiny pewny firebox wasn't expecting it to be that small. Chose this over quadrafire. But I'm hoping this thing will surprise on the burn time with such small box.
Edward DiSalvo - 2022-08-16

Scott & Diane Eschenbacher - 2022-07-11

Jeffrey Rusch - 2022-07-01

Colin Wilbur - 2022-02-28
Derek Van Kampen - 2022-02-21

Austin Bancroft - 2022-01-25

Kevin Lin - 2022-01-06

Timothy Gawne - 2021-12-22

My Osburn Stratford 2 is amazing! It is heating my entire 2 story home. With the carpentry perp work done. I was able to install the unit my self in a few hours and have a fire. Being able to see the fire through the large glass doors never gets old. It makes our living room so cozy. I highly recommend the Stratford 2 to anyone looking for a fireplace
Elizabeth Martin - 2021-12-21

William Stinson - 2021-12-17

I am very pleased with the product, installation, and service. My only wish is that my Province of Alberta recognized the efficiency of your products and provided a financial level of support or tax relief.
Chartier/Lauzon Francois & Sharon - 2021-12-10

Mark Winson - 2021-12-08

Michelle Meadows - 2021-12-07

Richard Barth - 2021-12-06

Robert Golenberke - 2021-11-30

Chad Petrenko - 2021-11-27
Diann May - 2021-11-24

Works great
stephen krauth - 2021-11-03

Ken Clark - 2021-10-29
John Husband - 2021-10-25

Christopher Cirami - 2021-10-23

I love the unit I have a fresh air intake and additional blower to heat my basement. Works like charm. Best investment ever.
Joe Winkelman - 2021-10-15

very efficient fire insert keeps the house warm and has lowered our heating bill tremendously. Well worth in investment.
Tim Leonhartsberger - 2021-09-28

Derek Van Kampen - 2021-09-19

Wonderful product so far
Joshua Fagner - 2021-08-26
Dennis Jones - 2021-08-24

Good solid product. Looks nice.
Carri Suderman - 2021-08-20
Jasmin Larson - 2021-07-29

Thomas Keating - 2021-07-28

Yancy Richardson - 2021-07-25

Bruce McMurray - 2021-06-03
Steve Winters - 2021-04-24
Deborah Nobbe - 2021-04-20
Robert Weaver - 2021-04-13
Ron Cordes - 2021-03-24
Michael Costoulas - 2021-02-19

Dan Dixon - 2021-01-21

Nice looking unit Osborn Stratford II installed today just having our fire of many fires to come. Quality unit installed very nicely replacing an older (40 year)fireplace insert. So far so good:)
Kenneth Cline - 2020-12-01

Catherine Dillon - 2020-11-30

Dawna Koterman - 2020-11-15
Domenic Di Pardo - 2020-11-01

very good fireplace, very well built and very efficient.
Sylvie Gagnon - 2020-09-06
albert Girard - 2020-08-02

exceptional service from Lawsons. 5 stars for customer service.